These mushrooms were my pick for this month's Sweet as Pie menu.  I've always wanted to try them, but have just never bit the bullet.  They were a bit intimidating with the 4 pounds of mushrooms and a quart of wine and the multiple hours of cook time, but it was time to go for it.  I added them to our Christmas Eve menu since I would have a total of four mushroom eaters at my house that night.  Unfortunately, in the bustle of packing and moving, I was not able to cook them for the full 9 hours the recipe called for.  Instead, they cooked for somewhere between 5 and 6 hours.  Now, I know that is a long cook time, but don't let that scare you – the active prep time is only about 5 minutes and the rest is just simmering.  It's perfect for busy cooking days because you can essentially have this one done far ahead of time.  Anyway, here's how it came together:
Put 4 pounds of mushrooms in a large pot and add worcestershire, butter, a quart of burgundy, pepper, chicken bouillon cubes, beef bouillon cubes, dill, garlic, and boiling water.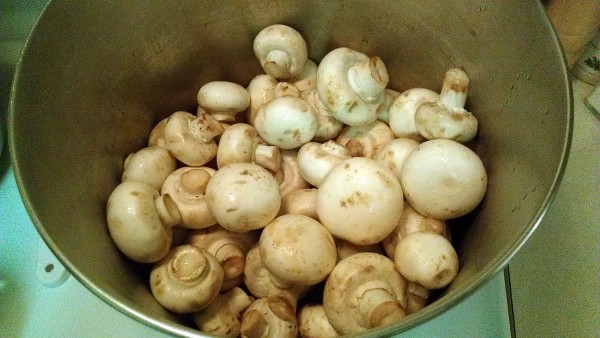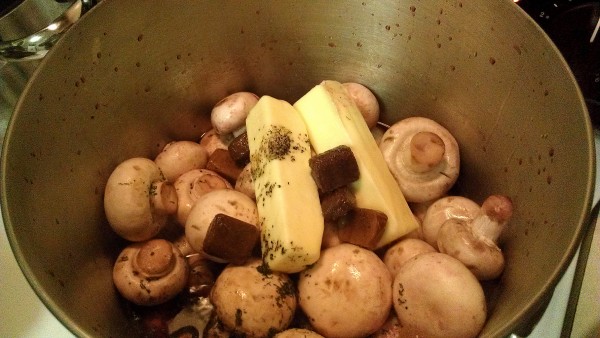 You simmer the mushrooms, covered, for 6 hours, and then uncovered for an additional 3 hours.  Just before serving, add salt to taste.  That's it!
You know how holiday meals are, right?  So you'll forgive me for forgetting to take pictures of the final product, right?  You'll just have to trust me that they made a lovely dish.
I LOVED these.  So much so that I want to try them again and cook them for the full 9 hours just to see how much better they can get.  Everyone else liked them too.  The recipe makes plenty for a crowd and they were just as good reheated.  They are full of flavor and would be great as a side dish or with pasta.  In fact, I used some of our leftovers to make a mushroom cream sauce that I served over penne with some leftover prime rib and parmesan cheese later in the week.  Yummy either way!