I purposely saved this Sweet as Pie pick for the few days I would be in Charleston before Phillip arrived since it's well known that Phillip strongly believes that soup should be hot.  I, however, embrace cold soup – especially gazpacho.  Gazpacho always reminds me of summer lunches at Grandmother and Granddaddy's house.  They often made gazpacho with the abundance of fresh vegetables out of their garden.  It's light, it's refreshing, it's healthy, and in my opinion, it's a perfect summer dish.  Here's how PW's version came together: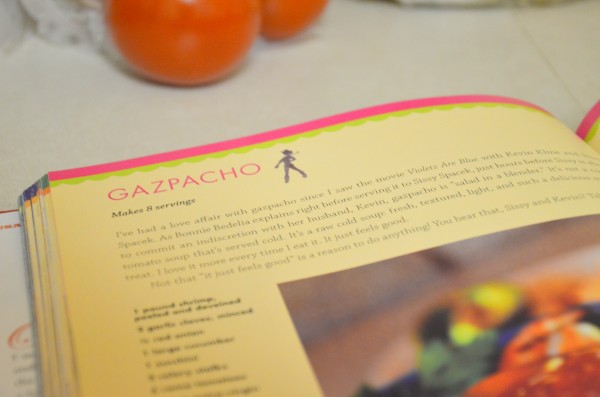 The recipe called for onion, garlic, celery, tomatoes, zucchini, cucumber, tomato juice, hot sauce, red wine vinegar, sugar, salt, and pepper.
The mix: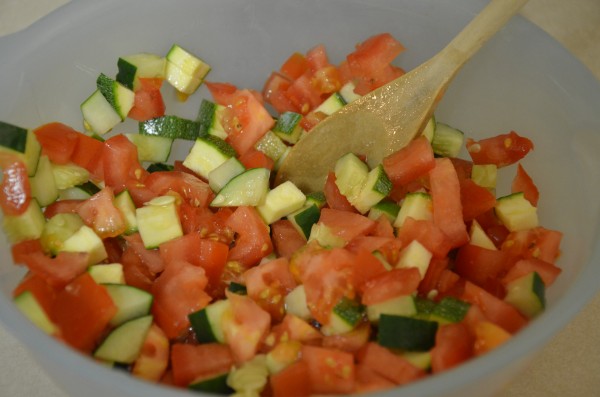 After adding half of the vegetable mix to the blender, I added a couple cups of tomato juice, several dashes of Tabasco, the vinegar, sugar, salt, and some pepper.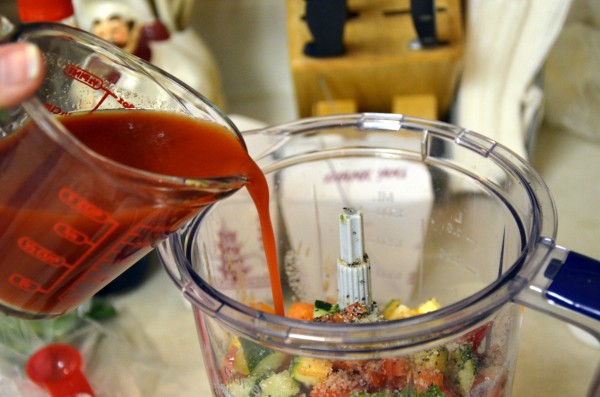 Then, I poured the whole thing into a gallon pitcher and stirred in the rest of the vegetables and another two cups of tomato juice.
At this point, I taste-tested and found it to be slightly lacking.  So I added some lemon juice (trust me – goes with everything), a pinch of cumin, and a couple of dashes of coriander.  The lemon brightened it up and the spices gave it just a touch more depth, which I really liked.
I thought this was a really good gazpacho and I'll definitely make it again, although probably on a smaller scale since Phillip isn't really a fan and let's face it, I just can't eat gazpacho every day for a week.  I'll also probably trade out the zucchini for some fresh corn which I think would be just wonderful.  It's so easy to throw together.  I think it would also be great to pour into some small Mason jars and throw in the cooler for a picnic or lunch on the boat.  A great use for summer vegetables!