We loved fried rice.  And lucky for us, it's actually really easy to make.  Usually I use 2-3 cups of minute rice, but this week I raided my fridge for some leftover Chinese takeout steamed white rice.  From there it was just a matter of throwing some other things into the rice to come up with something yummy.
Start by frying up some bacon to crumble and add to the rice later.  Reserve some of the bacon drippings in your skillet and add enough vegetable oil to give the bottom a good coating.  Heat the oil and reserved bacon grease over medium to medium-high heat.  This time I started with leftover chopped onion from another dish, so I sauteed that for just a few minutes before dumping in my leftover rice.
Saute the rice and onions until the rice starts to turn a golden color.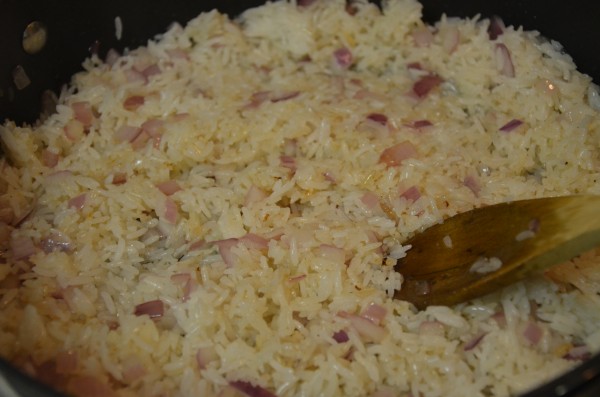 Then, add one beaten egg to the pan and stir to combine well until the egg is cooked through (unless you like giant chunks of egg, in which case, just make some scrambled eggs in the middle of your skillet).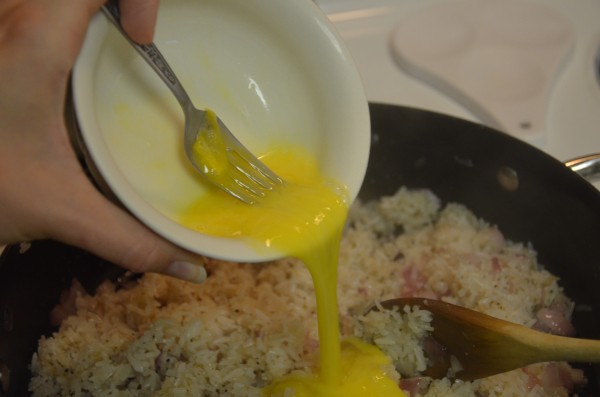 Next, add 2-3 tablespoons of soy sauce and stir to combine.  If you like a little heat, also stir in a tablespoon or so of Sriracha – feel free to adjust to your tastes.
Finally, toss in your bacon crumbles and some chopped green onion.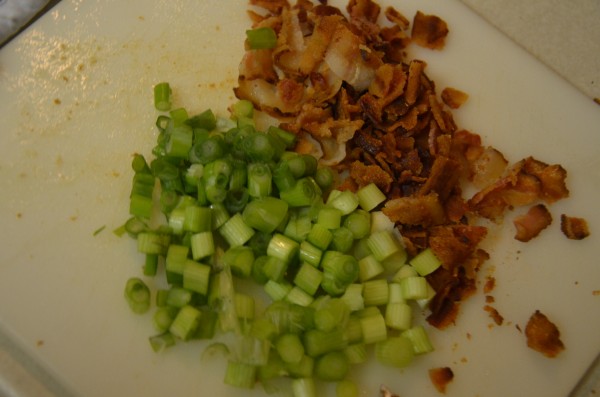 Taste and add salt, pepper, or more soy sauce and/or Sriracha as needed.  Remove the rice from the heat and – this is very important and adds such a great dimension to the rice – stir in about a teaspoon of sesame oil (go easy on this – there's a lot of flavor packed into a very little bit).  Voila!  Easy fried rice from your kitchen (and it's great leftover)!