It's the middle of April and I'm just now starting on my Sweet as Pie recipes for the month!  I best get cooking!  First up – White Chicken Enchiladas.  Y'all.  These were delicious.  You should make them.  Here's how they came together:
First, the recipe directed me to grill my peppers until charred all over, and then transfer them to a plastic bag to steam for about 30 minutes.  The steaming really worked – the charred skin peeled right off and the peppers had lost their crunch, which is a good thing in this dish.
I'd cooked the chicken that morning, so I saved some prep time with that.  This would be a great recipe for using up any leftover chicken you have in your fridge since there's really not a magic seasoning blend the chicken takes on.  While the saute was going, I worked on the peppers.
While the chicken simmered, I worked on the creamy cheese sauce.
The recipe makes a lot of enchiladas.  I used the small taco-sized tortillas and there were enough to fill a 9×13 dish, as well as another small casserole dish.  Leftovers!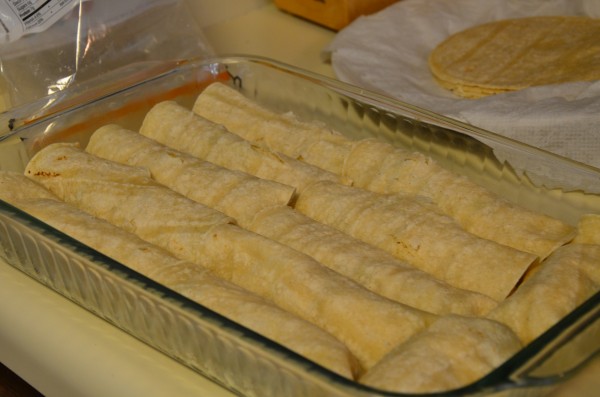 After assembling the enchiladas, I poured on the sauce.
Four hungry boys can't be wrong – these were yummy.  The sauce is very creamy and really makes it all work.  Next time I might try to cut down on some of the prep time by skipping the pepper roasting process and using canned chiles, but otherwise this one doesn't need much tweaking to suit our tastes.  We'll definitely make them again.  Another Sweet as Pie success story!