What better to serve with a cool pasta salad, than a spicy pulled pork?  This recipe has popped up all over the PW world, including the cookbook, the blog, and Food Network, so I was excited to try it.  First, the ingredients: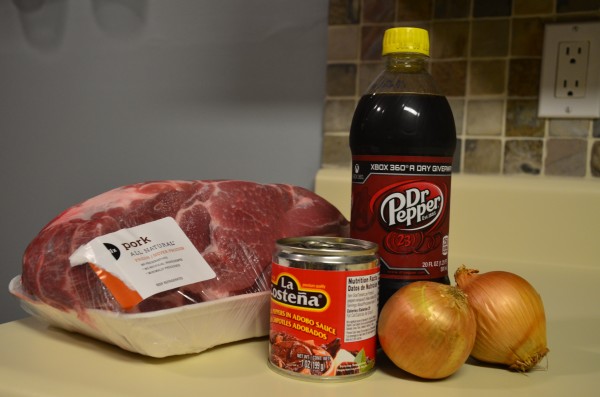 I found the chipotle peppers in the international foods aisle, but did not find the exact size can the recipe called for.  But, since these peppers and sauce are so spicy and the recipe noted how spicy the pork turns out, I figured I would be okay with a slightly smaller can.  The recipe also calls for 24 ounces of Dr. Pepper.  Neither of us care for Dr. Pepper, so we went the "cooler at the checkout" route and took home a 20 oz.  That should be good enough, right?  The pork shoulder was supposed to cook in the oven for about 6 hours, but I needed this to be a weeknight meal.  So, I pulled out my trusty crockpot to do all the work for me.  First, I quartered a couple of onions and scattered them on the bottom of the crockpot.
Seasoned the pork:
I didn't have quite enough liquid from my 20 oz. Dr. Pepper, so I also added a partial can of Coke, which we do like and keep on hand.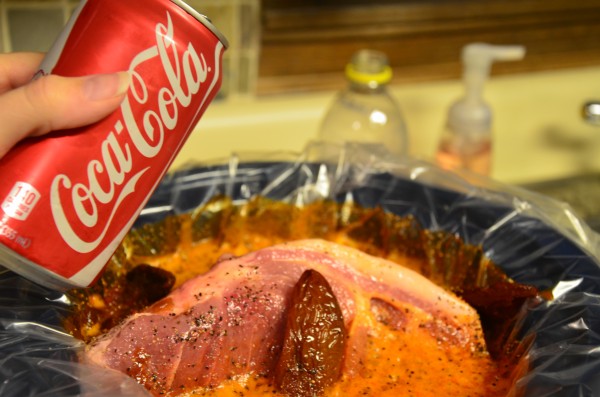 Several hours later…
The pork turned out extremely moist and very tender, only disappointingly mild-flavored.  I'm not sure if it was the cooking method or some of the (what I thought were) minor ingredient adjustments.  I was expecting big, spicy flavor, but ended up with neither.  However, I did get some very versatile pork.  Phillip ate it plain, I made it into nachos, and we could have made sandwiches or tacos.  And, it made plenty, so there were lots of leftovers – a big return for very little work.  I think this also would have been delicious instead of or mixed with the chicken for the White Chicken Enchiladas.  Next time, I'll go heavier on the seasoning and definitely spring for an extra can of chipotles.  And I'll probably just stick to good ol' Coke – no offense Pioneer Woman, but it's the Dean way.