Settle in – this one's long.  The past seven days have been extremely eventful for the Deans.  Big things happening around here!
Last weekend, Phillip and I headed to Charleston to begin our house hunt.  Always looking for an efficiency, Phillip also scheduled his interview for his South Carolina medical license.  Unfortunately, he scheduled it for 4:45 on Friday afternoon.  Normally, this wouldn't be a problem (we can easily be morning people that get up and hit the road), but Phillip is working nights this month so he wouldn't get off work until 8:00 a.m. that day, and wouldn't be showered or well-rested.  Not ideal conditions for an interview.  Plus, it was an estimated 8 hour drive from Birmingham to Charleston and, with the time change, we were set to lose an hour.  All in all, I didn't see how we could possibly make it on time.  But luck was on our side – Phillip's attending agreed to round early so he was able to make it home in time to grab a quick shower and leave around 7:00.  Of course, since Phillip had worked all night, he needed to sleep.  So the driving fell to me.  Ugh, I hate to drive.  And I get so restless on long trips.  And it's even worse when my car buddy is asleep the entire time.  But, it had to be done.  We set out, made excellent time, and even had time for a couple of quick stops.  We made it in time to check into our hotel and regroup before heading to Phillip's interview.  The interview itself was..uhm, interesting…to say the least.  After getting that behind us, we enjoyed a great meal at Hominy Grill, which is on its way to being one of my favorite restaurants (the pudding is amazing!).
The next day we spent hours driving around looking at houses with our excellent agent, Jason.  We got a good feel for several neighborhoods and even put a couple of homes in our sights.  It was a very productive day.  After ending our real estate tour, Phillip suggested that we drive out to the coast.  We dipped our toes in the ocean, and then journeyed to Fort Moutrie for a little sight-seeing.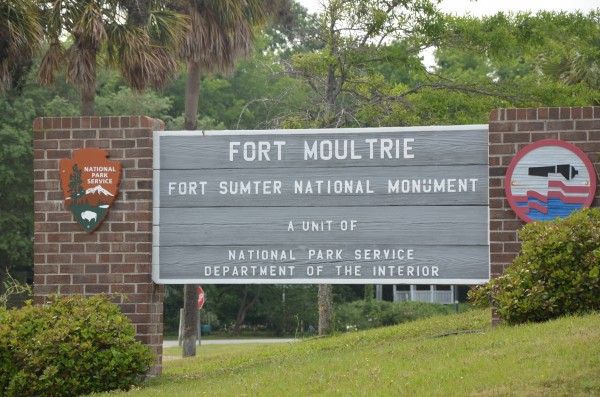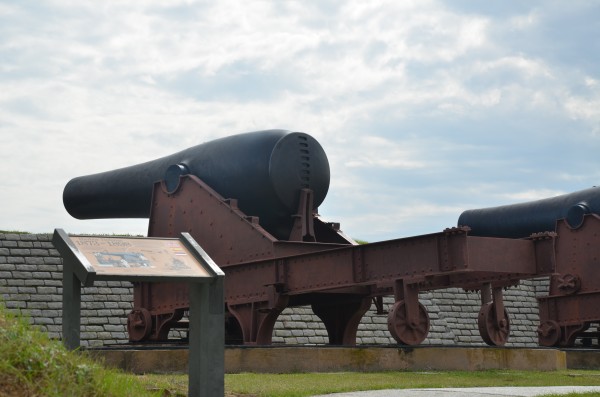 That night we enjoyed some delicious, award-winning mojitos at Coast before turning in after our long day.
On Sunday, we headed back to Alabama and timed our arrival just as our open house ended.  There had also been a scheduled showing earlier that morning so we hoped there had been some good traffic that day.
On Monday, Phillip slept off his Sunday night shift while I survived a typical Monday at work.  One perk though -a friend of ours put out a request for a washing machine donation for a non-profit organization.  Score!  We've been trying to find a good home for our extra washer and dryer for months and are delighted to have the opportunity to donate it to someone who can really use it.  Beginning to look like things are falling into place…
On Monday night, we were delighted to get an offer on our house!  Thank goodness!  We had been so worried that it would take it several more months to sell.  We negotiated with the prospective purchaser (who, as it turns out, was the Sunday morning scheduled showing) and reached a final agreement on Tuesday.  Of course, the inspection and all of the other typical contingencies are still pending, but we're hoping it sticks!  Best of all, the purchaser doesn't want to close until late June – we couldn't have planned it any more perfectly to align with our South Carolina timeline.  Again, things seem to be falling into place.
Compared to the previous few days, Wednesday was relatively uneventful.  Thursday we were excited to receive the link to our wedding highlights video with a promise that the full video would be arriving in the mail on Saturday.  Check out the amazing job John and Angela from Main Street Productions did here:  Phillip and Jennifer
Friday was another big day.  Bar results were due to be released.  I knew what time they would be posted, so I was able to be intensely anxious about it all day.  But, I PASSED.  It was such a relief.  A bar exam is a big hurdle no matter how you do it, but the stress of the whole thing was compounded by the fact that I was working full time while trying to prepare for the exam, and oh yeah, my future employment and all of our other Charleston plans kind of depended on my passing the bar.  So, needless to say, I was extremely relieved when I saw my name on the pass list.  So much to be grateful for this week!
On Saturday, not only did the full wedding video arrive (it's completely awesome, by the way), but I also got to see Mom and Grandmother.  They came down for the afternoon to see South Pacific, the final show of the season for Broadway in Birmingham.  It was a great show – the cast was very talented and it was a very smooth production.  We all thoroughly enjoyed it and I had a hard time choosing between "I'm Gonna Wash That Man Right Outta My Hair" and "Honey Bun" to sing in my head for the rest of the day.  The show also distracted me from worrying about the home inspection which was happening while we were enjoying the show.  : )
On Sunday, as you can imagine, Phillip and I needed a low-key day.  And a low-key day it was.  We did our weekly chores, read, watched a couple of movies, and enjoyed staying put.  It's always a wonderful feeling knowing that at least most of your day is yours to do with what you will.  And that's how we came to have cake for breakfast.
We are excited that things are definitely lining up to smooth our transition to Charleston.  I can't believe what a wonderfully full week it turned out to be – weeks like this remind us of how overwhelmingly blessed we are.