Last night we (me and some fellow Sweet as Pie members) were excited to meet The Pioneer Woman when she stopped at Books-A-Million in Birmingham.  Jenny was kind enough to score us a line number the night before so we were in the second wave of the more than 200 numbers (at up to 5 people per number).  PW started with a slideshow about who she is, what she does, and how it all got started.
After snaking through a poorly planned line (Mom would have had this place whipped into shape), it was finally our turn.  Ree was so nice and friendly!  Especially for having signed hundreds of books already and taken many, many pictures.  I gave her a printout from our cooking club website to read later and told her a little bit about it.  She personalized all of our books and posed for a picture with each of us.
Then she was nice enough to let us get a group shot.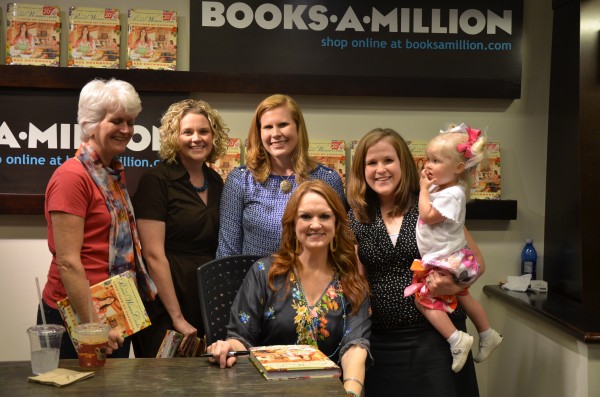 It was so much fun to catch up with some of my cooking club friends, and a thrill to meet Ree in person!  We love you P-Dub!