Next for the March Sweet as Pie picks was Simple, Perfect Chili chosen by Kerry at The Woman at the Well.  Was it simple?  Yes.  Was it perfect?  I can only answer that with other questions:  Is there such a thing as perfect chili?  Are we all not continuously on the hunt for a better, more flavorful, spicier/not so spicy, thicker/thinner, etc. chili?  So there you have it – I don't believe in perfect chili.  Nevertheless, this one was pretty good.  Here's the story:
Since the chili required an hour of simmering, Phillip got it started while I was still at work.  I'd left everything out on the counter for him with the written instructions and we did a quick run-through this morning before I left.  After that week of great cooking he handled during the bar, I had no doubt he could handle the pressure of browning some ground beef.  And I was right.  When I got home, the meat was brown and had been simmering on low heat for about an hour.  All I had to do was finish it out.  First things first – I require some sort of tomato in my chili.  This recipe called for some tomato sauce in the meat-simmering phase, but I thought it needed some more tomato flavor so I took PW's suggestion and added a can of Rotel.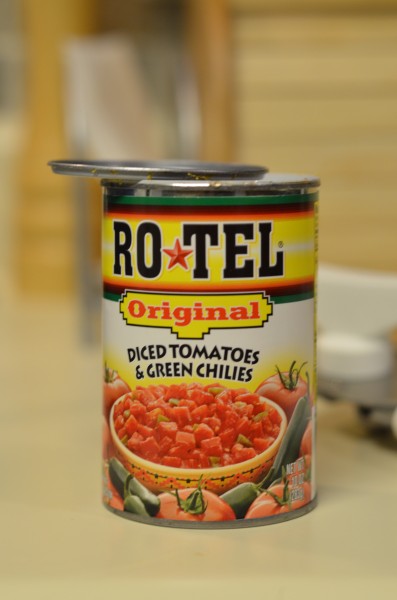 At this point I also added about 3/4 a can of water the mix, although if I'd had some on hand, I would have added some tomato juice instead.  Phillip requires beans in his chili and he chose some of the pinto variety (I think mostly because they had "frijoles" printed right on the can).  As you all know, I'm not a fan of beans which is probably at least one of the reasons I really enjoy chili of the Cincinnati variety – have it your way (and such a great flavor combo – try it sometime).  Anyway…
The final product – we dressed it with some chopped onion, sharp cheddar, and Fritos: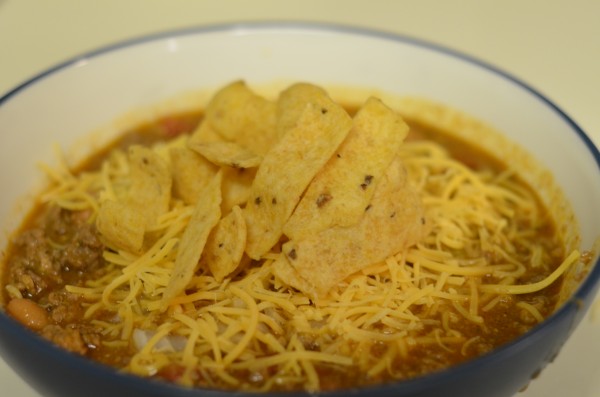 We really enjoyed this chili – it was simple and very good.  Phillip even had two bowls!  I especially liked the spice blend we ended up with and I didn't need to continually adjust the seasoning as I have with previous chili attempts.  "A keeper!" as my dad would say.  I'll make it again (but still keep tweaking it on the all-American perpetual quest for perfect chili).