So this Blueberry Crumb Cake might be Phillip's new favorite.  A great way to use fresh or frozen blueberries.  Here's how it came together:
First, I creamed butter, sugar, and cinnamon together and then added an egg and some vanilla.  Next, I alternately added the dry ingredients (flour, baking powder, and salt) and milk.  Finally, I stirred in some blueberries from the freezer and poured the batter into a 9×13 pan.  For the crumb topping, I cut together butter, sugar, cinnamon, flour, and salt and sprinkled that over the cake batter before baking.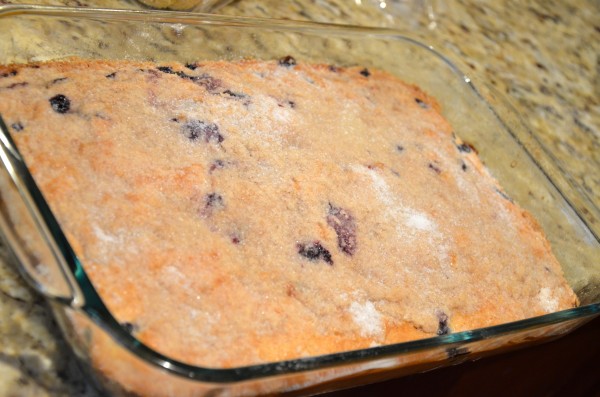 I sprinkled with a little extra sugar for crunch once it came out of the oven.
We loved this one.  Actually, I've already made it again and it turned out just as well the second time.  We enjoyed the cake warm, at room temperature, and with vanilla frozen yogurt.  Phillip had it as a dessert, but I may or may not, but definitely did, eat it for breakfast a few times.  It had a great blueberry flavor, the cake was light, and the crumb topping really set it apart.  I'd like to try it with other fruits – maybe with apples?  Peaches?  Blackberries?