Since all that bar and CLE nonsense was out of the way, we were excited to focus on a celebration – our friend Leslie's wedding.  As if that event alone weren't enough to cause all that excitement, the wedding was in the Bahamas!  So we gladly packed our bags and headed to the Atlantis resort in Nassau, Bahamas.  Since I was coming from Columbia and Phillip was coming from Birmingham and we were flying out of Atlanta, Phillip took the train from Birmingham to Atlanta where I picked him up.  We flew out early the next morning and happened to luck into exit row seats on both of our flights!  To us, we might as well have been flying first class!
After our arrival in the Bahamas and what seemed like a 5-mile hike through a construction zone to Immigration, we caught a taxi to the hotel.  And let me tell you, it was a long ride.  Our cab driver was wearing a scarf and toboggan and constantly pumped the gas.  If my mom had been along on the trip, she would have been carsick.  Luckily, Phillip and I are made of (slightly) tougher stuff, and we made it to The Reef at Atlantis.
Our room was really nice and even came with a mini-fridge and a microwave.  The rooms are actually sold as condominium units so they are also equipped with a small cooktop and a dishwasher.
We met up with Phillip's parents before suiting up for some pool time.
Unfortunately, the afternoon was a little gray and very windy so we didn't stay too long.
We ventured into Marina Village to a pizza place that night and stocked ourselves up with leftovers for the rest of the weekend – that fridge and microwave came in handy!  The next day was really pretty so Phillip and I sunscreened up and settled in by the pool.
Later that morning we hit the Rapid River, a fun "ride" in inner tubes that was part lazy river, part wave pool, and part rapids.  At one point, you have the option to go through rapids or to take a conveyer belt to the Power Tower where you can choose from a couple of waterslides (all in your tube).  We chose The Falls on our trip up there – the wimpiest one.  I liked parts of it, but definitely not the drop at the beginning, so I wasn't keen on heading back up to try the other, higher slides (to Phillip's disappointment).  Overall, I enjoyed the rapids the best.  We had a lot of fun that morning, had lunch at one of the resort restaurants, and checked out the aquarium.  Since we'd been in the water, we didn't have our camera with us, so you'll just have to take our word for it.  That night we stopped by Leslie and John's champagne toast before chancing it without reservations at The Mesa Grill, a Bobby Flay restaurant.  Luckily, there was a table open so we enjoyed a fantastic meal of pork tenderloin (for me) and veal (for Phillip).
On Saturday, we spent the morning in the Rapid River again before heading in to get ready for the wedding.  Leslie and John picked a beach location for their ceremony.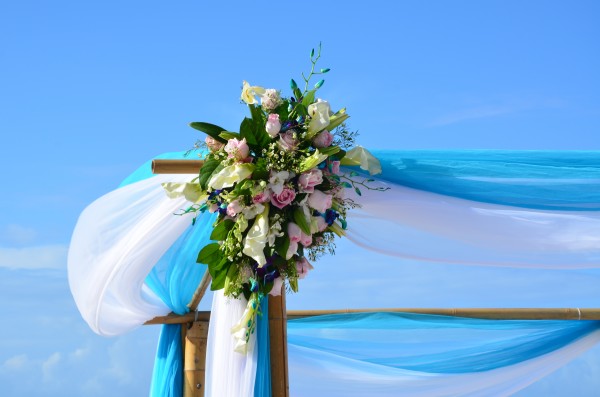 The weather was perfect!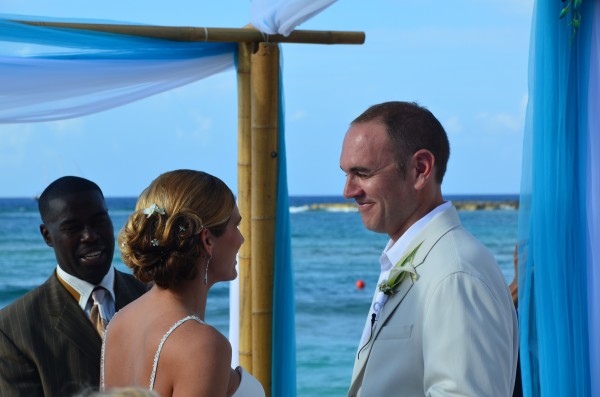 After the ceremony, we had a champagne toast on the beach.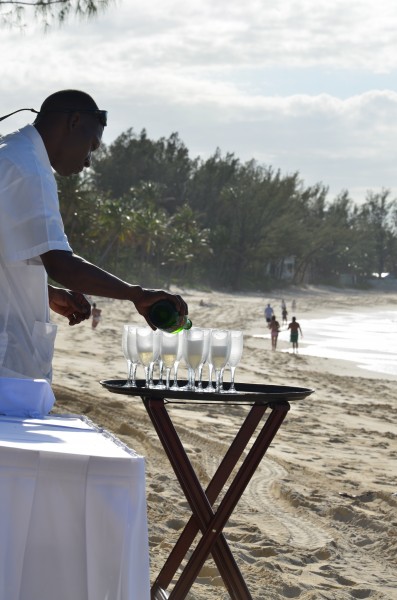 Then after some pictures, we walked over to the reception.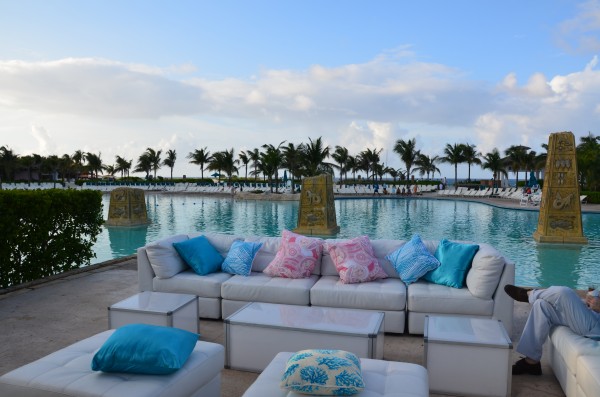 What a great location for a reception!  The pools at Atlantis close at 5 p.m. this time of year (which I kind of have an issue with generally) so there were no other guests around.  There was a great open bar and as we lounged on the couches by the pool with our Bahama Mamas, we snacked on some delicious hors d'oeuvres – stuffed mushrooms, lobster and potato skewers, pesto shrimp, and bacon-wrapped dates.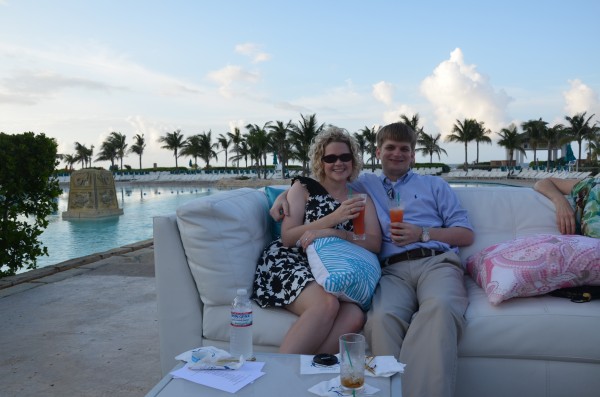 Then, it was time for the buffet dinner, some toasting, and some dancing.  It was a really fun reception and we all had a great time.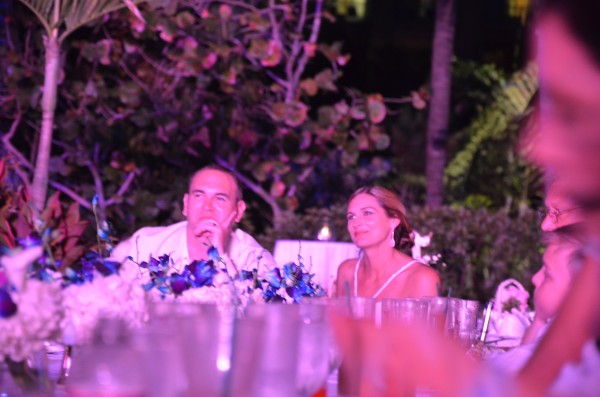 The next day we were kind of lazy and just hung out on our balcony before checking out and heading to the airport.  Despite arriving at the airport 3 hours in advance, we spent the next 2.5 hours waiting to go through US Customs and Immigration "Preclearance".  No such luck on the exit row seats on the return flights!  The worst part of the trip was definitely the drive back to Birmingham on Sunday night.  We finally made it back around 11:30.  Fortunately for Phillip, he didn't have to get up and go to work on Monday morning!  Unfortunately for me, I did.  But despite a rough start to Monday, our trip to the Bahamas was definitely worth it.  Congratulations Leslie and John!