After a fantastic wedding, Phillip and I were up extremely early the next day to head to the airport and catch our flight to St. Lucia for our honeymoon.  The entire flight was full of newlyweds.  I saw several new wives with matching "Bride" tank tops and even some with their wedding hair still up!
Despite the early departure, it was a smooth trip and we arrived safely in St. Lucia that afternoon.  However, we still had an hour-long van ride to our resort.  We were the last couple in the van so Phillip sat in the front seat and I sat in the very back next to a nice couple from Canada.
Once we arrived at our resort, we were surprisingly loaded right back on the van to be taken to a special check-in location because we were in a butler suite.  That's right, we had our own butler for a week!  It was kind of awesome.  But anyway, we arrived at the Butler's Lounge (although I think it's more fun to call it the Butler Hut) and were immediately greeted with a fruity beverage and a sandwich.  I could tell this was going to be my kind of place.   We checked in and were shown to our suite: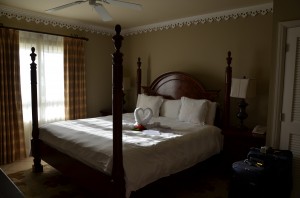 We settled in and met our butlers for the week, Tony and Denver.  Then we went to Armando's, the nearby Italian restaurant, for dinner.  We thoroughly enjoyed the all-inclusive aspect of our resort and frequently took advantage of trying multiple appetizers and desserts with our meals.
After sleeping for 12 straight hours the night before, we spent our first full day doing mostly nothing.  We started with breakfast in bed.  The ocean was rough that day so the beach was closed, but it was no great sacrifice to spend the day lounging by the pool.  The resort had three pools – a large pool at the main resort area, a medium-sized pool near our suite, and a small pool in another area of the resort.  We loved our pool because it had really nice chairs, was never extremely crowded, and was always really quiet.  Since Phillip and I are readers, we appreciated the lack of party music.
Our pool also had a bar in the middle of it and you could swim or float by anytime and grab a fruity cocktail, smoothie, or Coke.  My favorite was a banana smoothie, although Phillip preferred the Mudslides.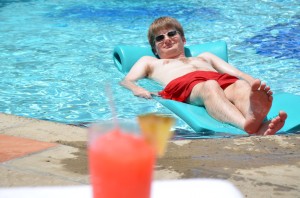 We had planned to go to the resort's beach party that night, but a restaurant that we wanted to visit had a last-minute cancellation so we were able to go there for dinner.  This meant riding a shuttle to another of the Sandals resorts, The Grande.  It was very pretty, but we were so glad we were not staying there!  The guests there all seemed to be much younger and there was a lot of loud music.  Yes, I realize how old and un-fun this makes me sound.  But really, our goal was to relax on our trip and we just didn't think we could have accomplished that at the larger resort.  Anyway, back to the story.  The meal at Gordon's was probably our favorite from the week.  The atmosphere was incredible since Gordon's is on a pier out in the ocean.  It was just beautiful.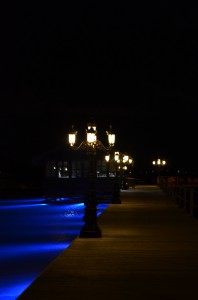 And so ended our first full day in St. Lucia.  In the next installment, Joe Knows…