Another easy summer side dish from Sweet as Pie!  If you already have the grilled fired up, you might as well throw as many elements on it as you can.  These Grilled Potato Bundles were simple to make and basic enough to be a good choice for a crowd of picky eaters.  Here's how they came together:
First, I diced some potatoes and onions and divided them among several squares of heavy duty foil.  I added some pats of butter to each and poured on a little bit of cream.  Finally, I seasoned the packets with paprika, salt, pepper, and parsley.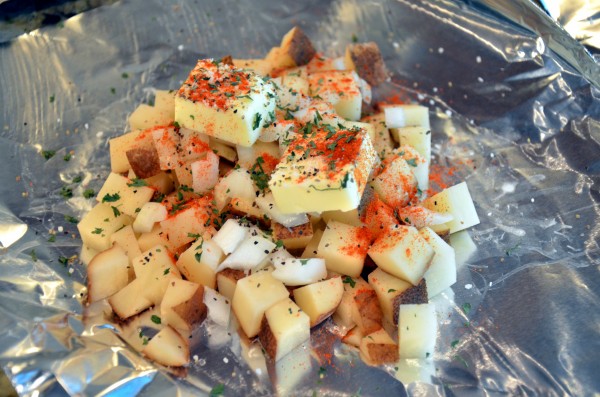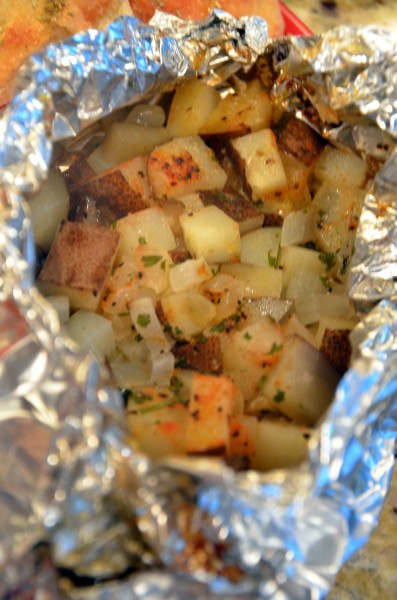 Phillip grilled these for about 30 minutes while he grilled the rest of our meal.  They came off perfectly cooked through.  I think these would work great for a large get together because they could be made ahead of time and just thrown on the grill as needed.  The only thing I would do differently next time would be to adjust the seasonings.  We ended up sprinkling on some Montreal Steak seasoning because the potatoes just needed some extra flavor.  Again, this would work great for a group because each person could season their own packet with seasoned salt, ranch dressing mix, Cajun seasoning, etc.  Almost endless possibilities!